Archive for February, 2016
Friday, February 12th, 2016
When drivers in the Toronto area search for their next vehicle, they are faced with an abundance of options, which can in turn make the car-buying process a significant challenge. But here at Bell Auto, we're proud to offer an exceptional array of the best used vehicles, so drivers can easily find the very best vehicle for their future. With our selection of used Audi models, drivers can effortlessly find the perfect balance of comfort and capability, as well as myriad luxury features to enhance every moment on the road.
Even as the conditions outside deteriorate due to winter weather, drivers in a quattro-equipped Audi model can enjoy unparalleled capability and confidence in the face of scary weather conditions. With Audi SUVs and sedans, drivers get some of the most impressive innovations found in any vehicle, on top of the inspired performance and extensive luxuries that define the Audi brand.
To learn more about the many advantages that used Audi models offer to Toronto area drivers, browse our pre-buy research and available models, and then come see us at 1127 Finch Ave W, Toronto, ON. Once you arrive at our location we'll help you identify the perfect vehicle for your future, arrange a test drive, and ensure an effortless transition into ownership. In no time you'll be enjoying the many automotive outings of your future in unparalleled comfort, confidence, and with the distinct satisfaction that comes from getting a great deal on a used vehicle.
Thursday, February 11th, 2016
.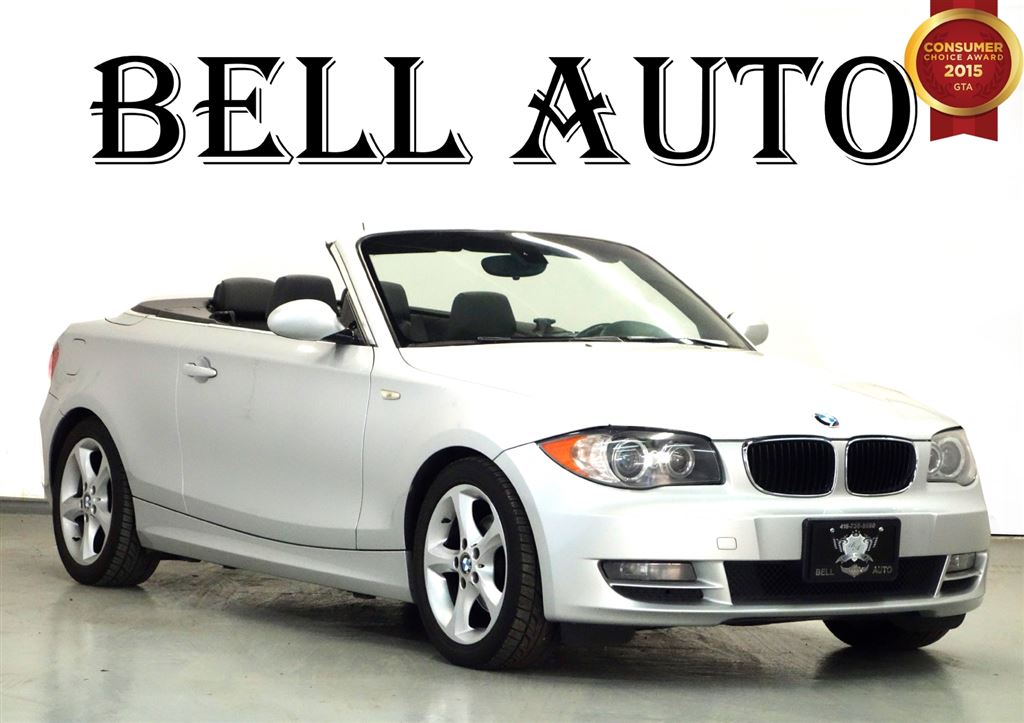 As a compact premium rear-drive coupe convertible, the 2008 BMW 1 Series is in a class by itself. It's a class we'd like to enroll in.
The
BMW driving experience at its purest, powerful and efficient engines, sports car performance with coupe practicality, high-quality interior, convertible's sun-reflective leather.
The design of the 1-Series allows extraordinary handling. The coupe body style gives it an assertively sporty and pleasantly aerodynamic shape. To improve the car's balance, the wheels were pushed as close to the corners as possible, creating a longer wheelbase than most competitors. In fact, the front overhang is virtually in-existent, the wheels seemingly residing under the headlights. Such configuration allows sportier driving dynamics while eliminating under-steer effects.
This particular Beauty that is in the Bell Auto show room has low kilometres, Light Silver Exterior, Black Leather interior, Sunroof, power windows, Memory Seat, traction control, Cruise control and BMW security system
This extravagant sedan has many unique features, functionality and has been upheld in great condition. Memory seats, Reclining seats, Power windows, heated seats, Cd Player, AM/FM Radio, Cruise Control, Power windows, Air Conditioning, Traction Control, Outside Temperature, Key-less Entry, Active Handling, Anti Lock- Brakes(ABS).
Friday, February 5th, 2016
For drivers throughout the Toronto area, finding the right vehicle for the future can be a considerable challenge. From knowing the price is right to knowing that the particular model is the perfect fit, there is always a lot of uncertainty for drivers. When winter arrives many drivers face even greater uncertainty, but not those in a Mercedes-Benz model, properly outfitted with the unparalleled 4MATIC all-wheel drive system. With this technology, conquering snow-covered roads is no trouble at all.
Here at Bell Auto, we're proud to offer drivers throughout Toronto, Mississauga, Brampton, and Richmond Hill a huge array of pre-owned Mercedes-Benz models, each one ready to deliver the ultimate automotive satisfaction. Whether looking for an SUV or another kind of vehicle altogether, there is surely a pre-owned Mercedes-Benz model that perfectly suits your needs.
To learn more about the advantages of a pre-owned Mercedes-Benz model in Toronto, ON, come and see our team at 1127 Finch Ave W Toronto, ON, and we'll help you to identify the ideal vehicle for the years ahead. After a test drive, we'll help you to get the very best financing solution, and you'll enjoy a seamless transition into ownership. In no time you'll be enjoying the adventures of your future with unrivaled confidence in your vehicle.